Churchill Retirement get started with Digital Content Campaigns
Churchill retirement wanted to increase their use of digital content to inform their customers and engage new audiences
Amplify traditional media campaigns with new digital awareness and engagement tools.
Churchill Retirement has an effective print campaign offering that reaches its primary audience. However, after analysing data, their audience is increasingly moving online as demonstrated by engagement across their social channels. They were therefore interested in other digital offerings that could help them raise awareness of their retirement living.
Following on from that need, our brief was to develop an accessible digital package that elevated the customer journey and moved them through the sales process with a strong CTA. The content also needed to enhance the positive, emotive and social side of retirement living. Especially for those considering this monumental move at this time of their lives.
Develop a digital starter package for Churchill Retirement.
To engage the end viewer with engaging, authentic editorial content we conducted supporting research to understand the needs of residents. These insights helped us create a "test and learn" phase for Churchill Retirement to ensure web pages differentiated from each other. Each, addressing a subject in a different way – 1 emotive and 1 practical.
This went on to develop a starter package for Churchill Retirement, giving them some new digital tools to kick start their integrated approach, to engage, educate and further understand their audience:
2 x bespoke campaign pages including landing page design

Competitor research, planning and copywriting

Film content (3 x films including the campaign pages and an advert for Sky AdSmart and cutdowns)

Email templates

Stills for PR and promotional use
Both the emotive and practical angles of the following campaigns helped address Churchill Retirement's concerns and objectives with engaging, authentic, and heartwarming editorial content.
Campaign 1

– an emotional story tailored to the social benefits of retirement villages for use on Churchill Retirement's homepage.

Campaign 2

– a practical/factual story, featuring a retirement coach discussing the benefits of buying a retirement home.
To hear more about our starter packages, contact us on the below form. We'd be happy to help.
A range of content addressing specific questions around retirement living are distributed through known channels
Content is integrated into the Churchill Retirement website where audiences can take the next step in their journey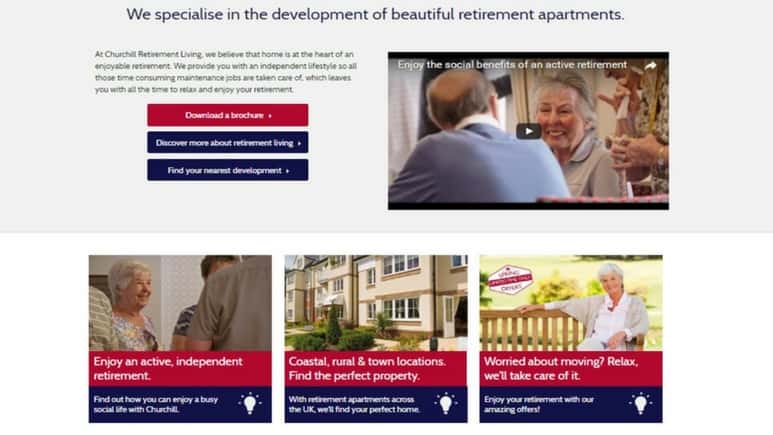 If you'd like to learn more about how we can help you improve audience engagement, just get in touch.